Welcome to Heliognosis, manufacturer of the Experimental Life Energy Meter. This unique device is based on the mysterious Orgone Field Meter of Wilhelm Reich. The phenomena it detects has been known by several names including Orgone, Zero Point Energy and chi. The Experimental Life Energy Meter is available for purchase directly online - just click on the Buy button or view our Policies page for more information.

---

| | |
| --- | --- |
| | An introduction video about using the Experimental Life Energy Meter can be viewed by clicking on the picture or link. The Electromagnetic meter EM2 is also featured in a video titled: Electromagnetic Radiation around the House at Product Videos Also check out our instructional and experimental videos including for the new VLF Receiver. |

---

New VLF Atmospheric Sound Radio:

Introducing the new model AR1 Lightning and Atmospheric sound receiver. Listen to the natural sounds of the earth using this portable vlf band radio. Lightning, whistlers, tweaks and auroral chorus can be heard from more than 3200km on the built in speaker or by using the included ear buds. Sounds can be recorded directly to a computer for analysis or future playback. Includes high sensitivity compact loop antenna and high quality audio circuitry for the best listening experience. Now available on our "Buy" page Perfect for creative listening, stormchasers, researchers and paranormal investigators. An introductory video is available at Product Videos . Also useful for investigating and identifying "dirty electricity" and electrosmog. Click here for more details

---

EM2
ElectroMagnetic Meter

The perfect EM meter for investigating cell towers, wifi, smart meters and other environmental and household hazards. High sensitivity and widest bandwidth for finding all offending sources of electromagnetic radiation from AC power up to 18GHz microwaves. Experimental Report 6: Detecting Electromagnetic Radiation and Minimizing its Health Risks investigates common and less well known sources of emissions. Amazing performance at a low cost

Click here for details and specifications

---

A Breakthrough in Aether Physics
Our new video demonstrates the impossible Evanescent Waves



| | |
| --- | --- |
| | An alternative to accepted theories is that electromagnetic radiation travels through a medium of space. This medium has been difficult to detect until now. Using a little known phenomena in physics called "Evanesent Waves", it is possible to visualize this aether medium and its interaction with light. Evidence is mounting that these waves are superluminal, invisible and the same energy that Wilhelm Reich called the Orgone, A short video demonstrating the effect can be viewed on our videos page here. Product Videos |

---

Previous experimental reports in our archive demonstrate how to measure the life energy phenomena in a plant leaf and investigate evidence suggesting the existence of Zero Point Energy (ZPE).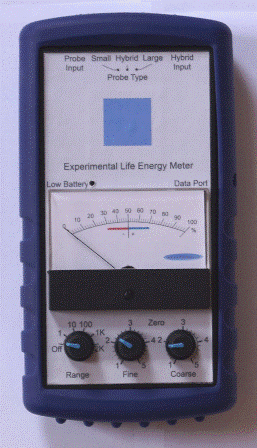 Introducing the new model LM4
Easy to use all in one package


More details

click here
---
The Life Energy Meter Now Portable
The LM4 now includes a built in flat plate electrode for convenient measurement of fluid samples, food, body energy and much more. Examples can be found in our R&D section. Liquid comparison using the LM4.